Privacy is an important aspect that most users take into account when browsing the Internet or when working, therefore many applications that try to protect it were created. Keeping opened windows from prying eyes is a task for which Zhider was especially designed.

This lightweight tool aims to offer its users a means of putting away from sight any running app that has a GUI. Zhider itself runs in the background and only a key combination will bring it up and into focus.

A great thing about this program is that it doesn't require installation. This means you can easily carry it with you on any portable storage device and run it on any PC to enhance your privacy.
To sum things up, it's safe to say that Zhider does quite well what it's supposed to and can keep your most important application windows away from prying eyes.
Selamat siang semua! Siang ini, saya mau share software yang semoga digunakan secara positif. Banyak juga yang menggunakan software ini untuk hal negatif contohnya seperti hacking billing warnet. untuk tutorial bisa anda klik disini. Fungsi utama software ini adalah untuk hide windows program. Langsung saja yah!

Features:
Global hotkeys arranged for discreet use and with keystroke combinations that allow you use from virtually any keyboard (101-keys, remote connections, etc.).

Instant hide-and-add feature allows you to hide a window instantly and keep it in a list of windows to toggle hide/unhide (with another hotkey).

Launches and operates silently and with great stealth: no windows, sounds, or even system tray icon is visible.

List mode displays a fully-detailed list of all windows added to the list and a feature-rich interface for hiding, unhiding, and removing windows. You can even view the class name and window ID of each window!

No bulky install / uninstall software package. You can grab-and-go, launch from a disk, etc. without ever modifying the Windows system registry, installing files to system directories, or risking detection by modifying the existing file system.

The program file can be renamed for complete discretion.

Tiny size makes the program fast to load and easy to hide.

Includes optional Task Manager stealth, masking not only itself but any hidden applications from detection

Allows command-line instructions for launching processes silently with full support for UNC-coded network paths and environment variable expansion
================
= Keystrokes =
================

-----------------------------------------------------------------------------
Primary Key Secondary Key Function
-----------------------------------------------------------------------------
CTRL+ALT+Z WIN+Z Adds currently-active window to the list of
windows to hide/unhide and immediately hides it.
-----------------------------------------------------------------------------
CTRL+ALT+X WIN+X Toggles hide/unhide to all added windows.
-----------------------------------------------------------------------------
CTRL+ALT+C WIN+C Immediately unhides all hidden windows and
clears the list of windows to hide/unhide.
-----------------------------------------------------------------------------
CTRL+ALT+L Displays a list of all added windows. The list
Can be manipulated by menu or by double-clicking
directly within the list. While the list is
open, all hotkeys are disabled until it is
closed. This also displays version information
in the lower-left hand corner of the window.
-----------------------------------------------------------------------------
CTRL+ALT+M Same as CTRL+ALT+C, but also exits ZHider.
-----------------------------------------------------------------------------
Screenshots :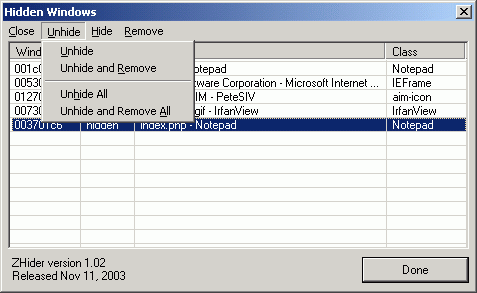 Download Now | Download Here | Serial Number | Serial Key: